Galindo, Arias & López recognized as Pro Bono Leading Light 2015
January 16, 2016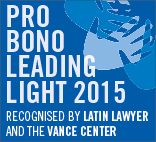 In a third joint effort made by the Cyrus R. Vance Center for International Justice and Latin Lawyer to explore the development of pro bono legal services in Latin America and recognize its main advocates, Galindo, Arias & López has been recognized as one of the 55 "pro bono leading lights", for its hard work in advancing the state of pro bono in the region.
Galindo, Arias & López is one of the two Panamanians law firms receiving the distinction for its various pro bono projects during 2015, including the recognition of the newly alphabetized Ngäbe indigenous language, the investigation of critical regional issues with the Vance Center, and the promotion of women's rights by the hand of the Thomson Reuters Foundation.
Being recognized as a "Leading Light" is, above all, a clear response to the firm's contribution "to the development of a pro bono culture in Latin America", where the real struggle is making pro bono "part of the daily routine," as highlighted by Latin Lawyer's report.
Latin Lawyer is a leading media outlet, specialized in the Latin American legal market. The Vance Center, Latin Lawyer's ally in the project, is a New York City Bar Association's program dedicated to the development of global initiatives in the search of an "ethically active legal profession". You can access the report here.